This week I was a judge for Young Enterprice Norway, in Oslo. And their first contest for students and on university level.
There were 14 student companies, with names like «Babbfit» (a smart holder for kebab), «Gearlocks» (a new way of secure your ski at ski resorts) and «Innovation Corporation» (a new way of teaching methods in kindergarden and elementary school).
First there was a presentation from the stage and then all the judges went to become a supervisor for 4 companies.
The judges was to find a winner for Best Presentation and The Best Student Company i Oslo.
And in the end this were the winners:
1. Sørhus Andersen SB
winner of the Best Student in Oslo in 2010 had the absolute best business plan and displays professionalism at all levels. The business idea is certainly feasible. The company has a product range with the potential for growth jury considers that the market is willing to pay for. The company has also thought through what they want to do when they reach profitability. They produce healthy and good crackers and biscuits.
2. Lett& Mett SB
is a company that represents an alternative product in an attractive market. The company has a credible plan around the market orientation in urban areas. The company has, after the jury's opinion the strongest team assembled in terms of expertise and associated networks. They offer a tasty diet weight loss program consisting of a subscription scheme for ready-made meals delivered home.
3. Innovation Corporation SB
is a company that showed a lot of flexibility to adapt to the individual customer. The jury sees a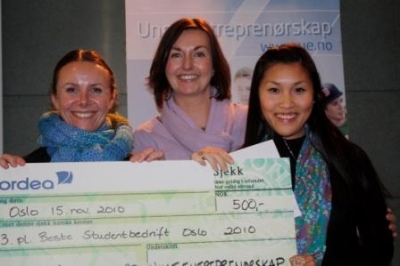 big growth potential and it is a unique academic professionalism of the service. They have the potential to contribute to strengthening the academic content of school activities for years to come: Innovation Corporation SB from the University of Oslo, Department of Art. Through the concept they are working to strengthen arts and crafts subject's position in school activities by providing personalized educational courses.
In September I mentored Innovation Corporation (No. 3 in Oslo) on their business plan (But I did not judge them in the competition).
Read more her oslo.ue.no/pls/apex32/f (in Norwegian)