With more than 10 years of experience and 500 people through his different mentoring programs, he knows whats best for your mentoring program.

Together with 20 years of business experience, including management, marketing, educational and training, Thor-Erik has a big box of tools for inspiration and personal development.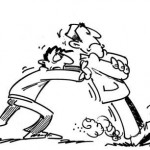 One of the more paradoxical thing about us humans is that we often have – consciously or unconsciously – to resistance to change.
Even if it's a good change. Once we have converted a routine in our lives, we risk therefore easy to fall back into our old patterns again.

Continue Reading

→